There's really nothing more darling than a little linen pinafore dress.  I made a few for Kate when she was itty bitty, and I could barely stand the cuteness then.  In case you missed it before, the tutorial is super quick and easy.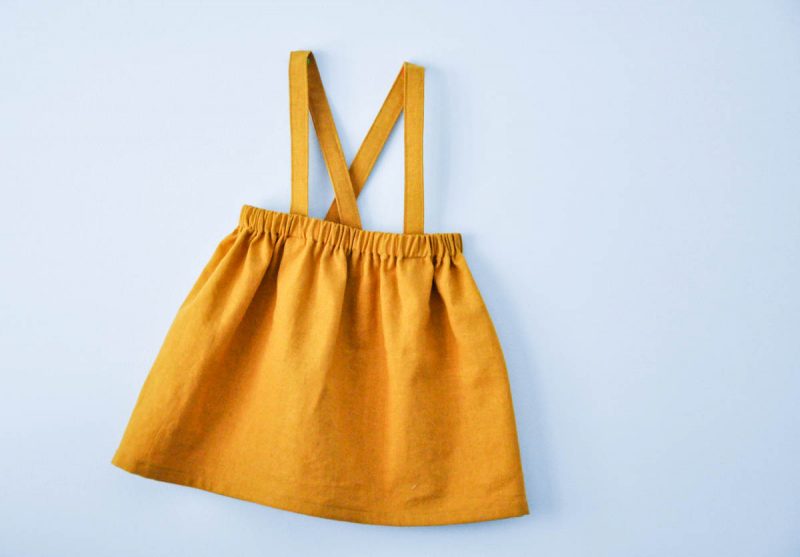 Now that she's older, I wanted to make her a new one with a bib attached to the skirt and add some buttons to the front.  This pretty blue linen that I bought from fabric.com ended up being a little too thick for such a tiny dress, but I found this blue Kaufman linen that's a lighter weight and would probably work better.  I also have my eye on this pretty striped one too…
I chose to put the buttonholes on the bib part of the dress, since I found these sweet little flower buttons to use.  You could easily put the buttons on the straps at the back of the dress if you wanted to.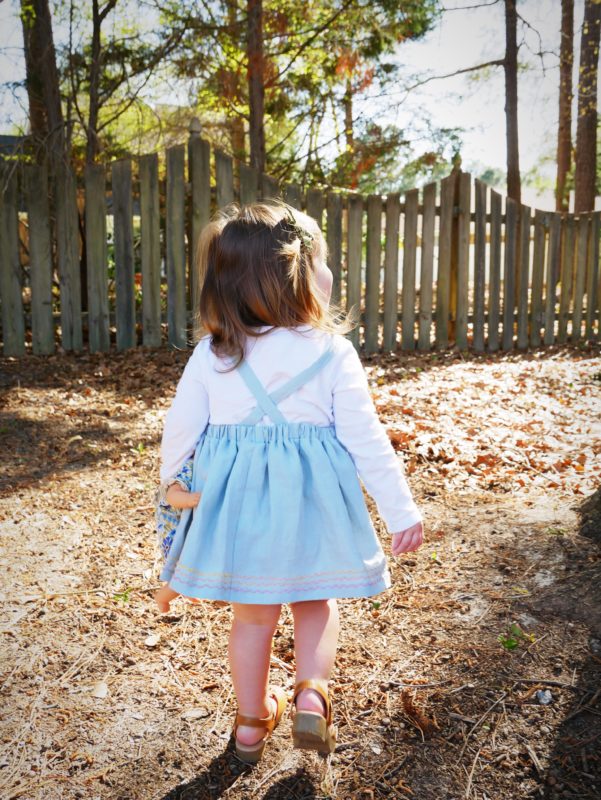 Want to know my favorite part of this pinafore?  I added some Sashiko stitching around the hem of the dress and flip stitched some yarn into the stitches to add the sweetest detail to the skirt. Seriously, that sweet little stitch on the Baby Lock Sashiko gets me every time.
So, I don't have a detailed pattern with instructions. Yet… But, here's a basic guide to making this adorable pinafore:
– Hem your skirt and add any embellishments to it before you start constructing the pinafore.
– Cut out your band and your bib pieces (front and lining).
– Assemble your bib and understitch if you like.  (Watch my tutorial here!)
– Attach your waistband/elastic casing to your bib.  Then, sew them to your skirt.
– Place right sides together and sew the back seam of the skirt and waistband.
– Insert elastic and serge elastic casing closed.  I finished my edges with a serger.
– Make straps, add buttonholes and buttons.
Follow me on Instagram and sign up for my newsletter to find out when the pattern becomes available.
For more examples of projects with the Sashiko machine and Sashiko machine tutorials, check out A Bit of Stitch.  Evy has so many great Sashiko creations!