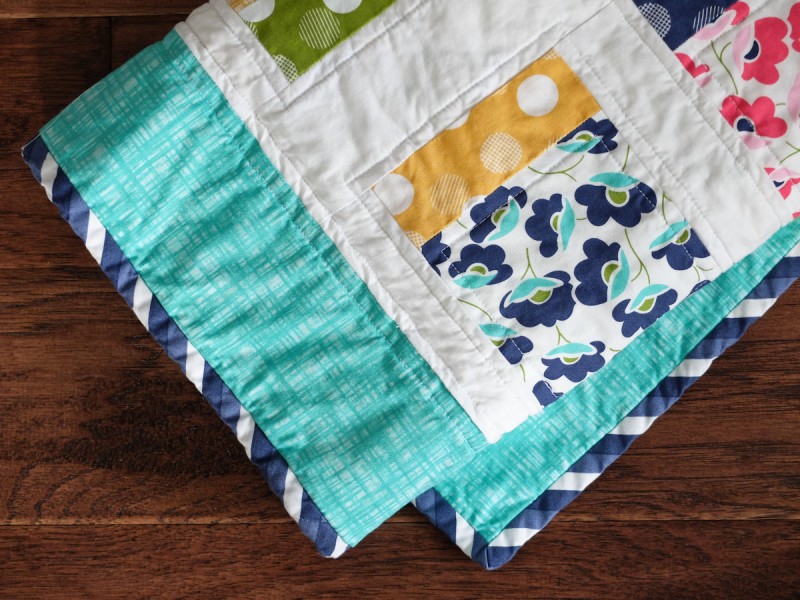 I had so much fun participating in the Single Wedding Ring blog hop with the Fat Quarter Shop that I jumped at the chance to join in their Charm Box Quilt blog hop too!
The FREE Charm Box Quilt Pattern is available on their website.  The instructions for piecing the top of the quilt are clearly written and the diagrams illustrate the process, so you can easily glance back while you're sewing to double check that you're on the right track.  As always, Kimberly's videos are super helpful as well!  Check out the Charm Box Video Tutorial to see how easy it can be.
I love the cheerful designs and color scheme of the Color Theory collection by V. and Co. for Moda Fabrics.  The mesh fabrics in the collection are my favorite because they are perfect for building a stash of basic fabrics you could add to any project.  I'm a total sucker for buying stacks of solid/basics…  Not sure which fabrics you want to use?  Check out the Charm Box Quilt Kit in Aloha Girl.  It's a great way to celebrate that summer is on its way!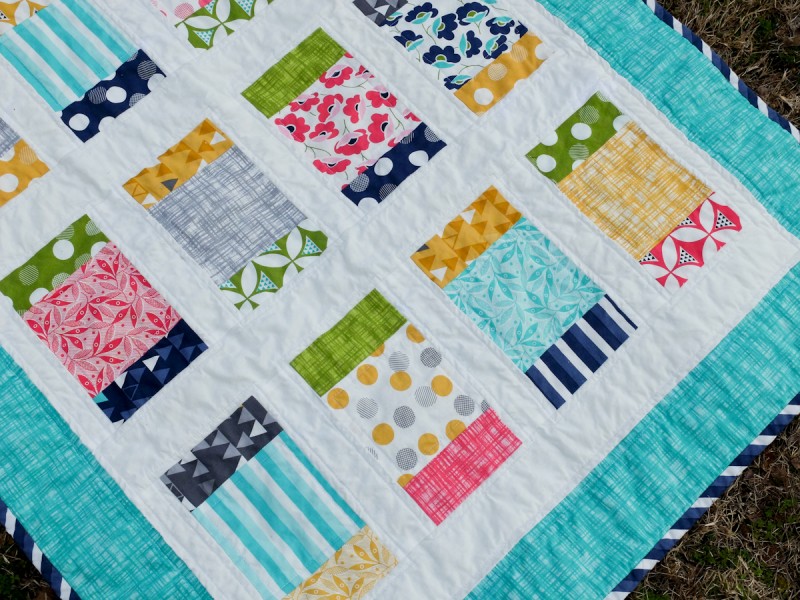 If you notice, I actually used a solid border around the Color Theory Charm Box Quilt.  It looks really cute with the solid border, but it wasn't my original plan… I blame it on having a one year old to keep an eye on while I sew; he's currently into (and on top of) everything and seems intent on trying to make me go completely gray before I'm thirty…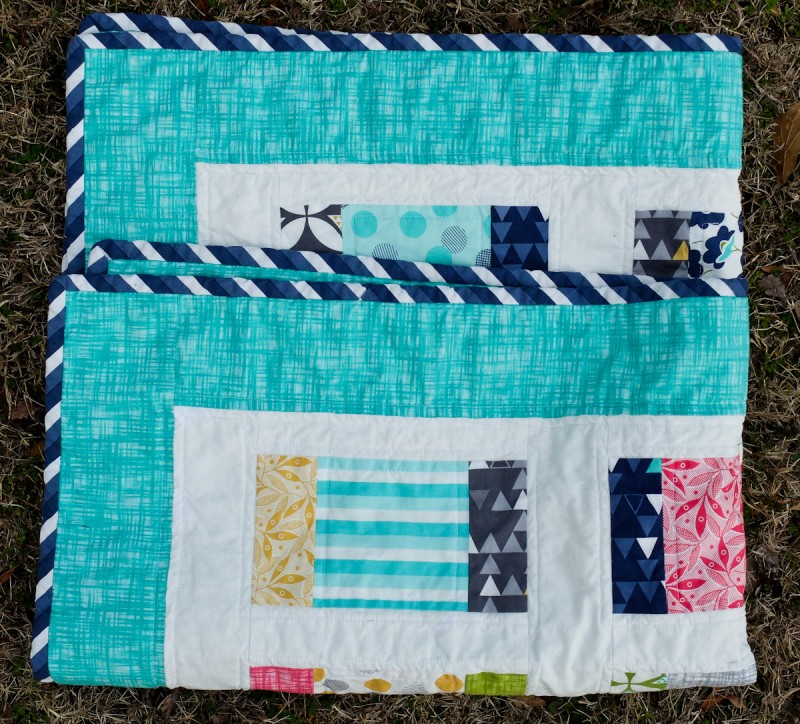 I used a slightly larger seam allowance than the 1/4 inch the pattern calls for, and slightly more isn't a lot until you add all the "slightlys" together.  When I went to add the border on, it was longer than I needed it to be, so I ended up using the teal mesh fabric as my border and as the back of the quilt.  I think it's super sweet and because it's a little smaller than intended, it's the perfect little play quilt for a sweet baby.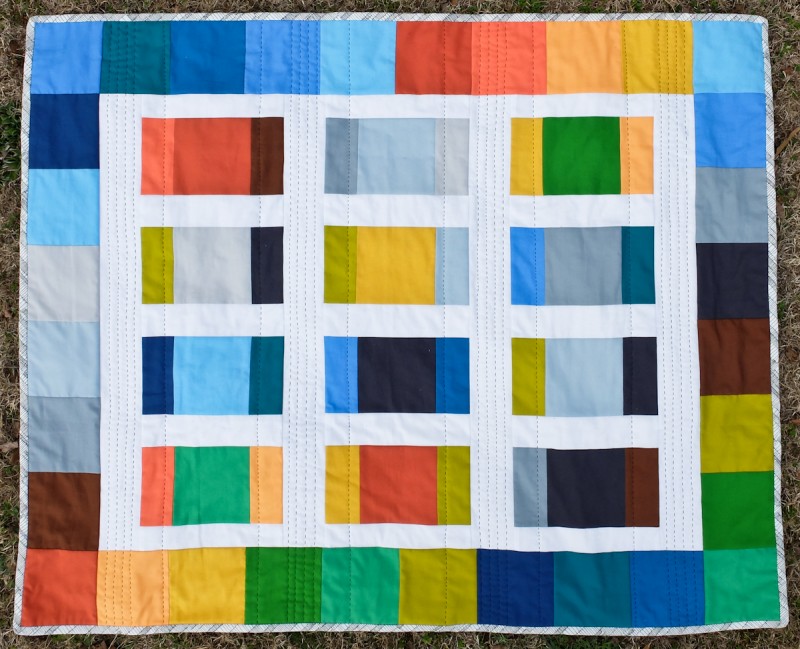 Since I didn't use blocks around the sides of the Color Theory quilt, I wanted to try again with the correct seam allowance.  I had a few charm packs of Kona Cotton, and who doesn't love a pretty color block quilt!  Let me just say… This quilt is my favorite quilt I've completed in a while!  I love all the solids and the Babylock Sashiko stitching just makes it perfect!
Just look at all the pretty colors!
And those stitches!  Eeek!
You all know how I love anything by Carolyn Friedlander, so of course, I had to use her Doe Black Line Scales for the back and binding.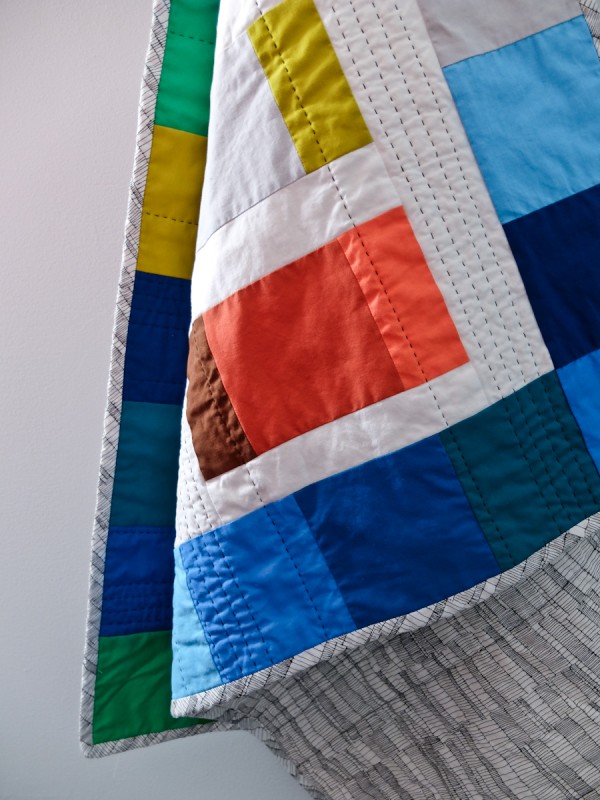 Wouldn't it be fun to make another one of these with specific color schemes!  All blues or greens or neutrals…