I have a confession to make.  I love Liberty of London lawn fabrics.  Pretty much all of them.  I love them so much, I would build a room just for my Liberty fabrics.  It's so hard to resist buying some every time I go fabric shopping.  I spotted this Emma and Georgina Blue
print a while back and thought it would be perfect to make some pillowcases for our bedroom.  We have a light blue and white striped quilt from Schoolhouse Electric, so the blue floral Liberty print looks great with it.  My next project is to dye some velvet to make some gold throw pillows to go with all of our blue.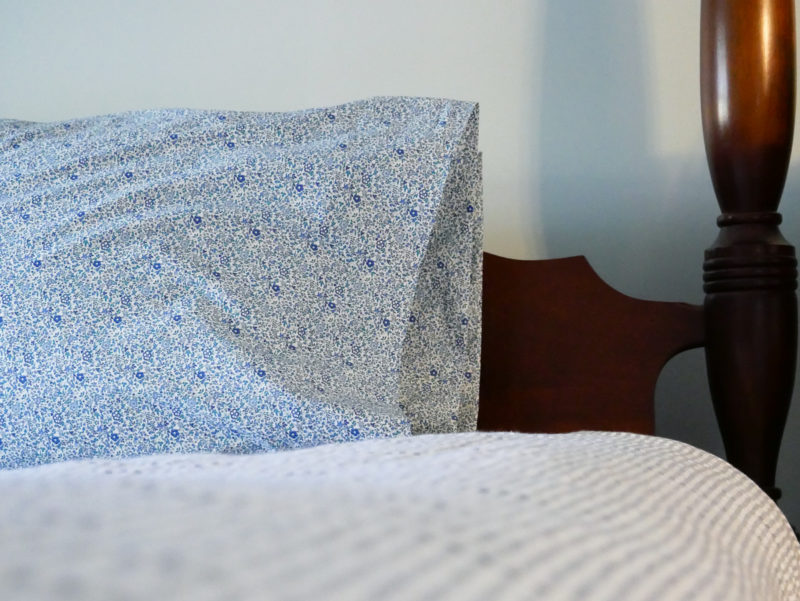 The Liberty lawn feels so great and makes the best pillowcase. To find the measurements for your pillowcase, you can just use one you have in your linen closet that fits your pillow well.  Turn it right side out and measure.  Make sure to add seam allowance and enough for the  band at the opening.  You can make that band as wide as you like.
Sewing with lawn can be a little tricky because it has a tendency to slide.  Make sure to use a walking foot to keep your fabrics from shifting.  Mostly though, lawn is really fun to sew with, especially if you usually sew with quilting weight fabrics.  It makes really sweet dresses for little girls, too.  You can see one my MIL made for Kate on this blog post.  So dreamy!
This Betsy
print is actually my absolute favorite Liberty fabric. I love the blues and gold with a touch of pink and green.  It would make a sweet pillowcase or duvet cover for a little girl's room.
Thanks for reading! Happy sewing!