So, check this out!  Your holiday banner can double as a place to hang your holiday cards this year! Hang it on your fireplace or a wall in your kitchen and use mini clothes pins or paper clips to attach your cards.  We can't wait to start getting cards in the mail and decorate our BE MERRY banner!
Shop fast so you can decorate for the holidays!
Speaking of holiday cards… This will be our first year to send out holiday cards as a family of three!  Normally, we would made our own cards, but this year we are letting someone else do the work for us!  Minted has the cutest holiday cards!  We usually go with simple, no fuss designs, and it was so much fun to go through and pick out a design on their site.  Before I started browsing their cards, I knew I wanted a photo card with a short message like: Be Merry, Merry and Bright or Happy Holidays.  Guess what?  They have all of those!  These were some of my favorites:
Merry and Bright Hand Lettered
Happiest Holidays
Winter Brush Holiday Card
Mellow Yellow Holiday Card
If you are one of those people who get overwhelmed by too many choices, have no fear…   It was really easy to browse their site.  You can search by the type of greeting: Holiday, Christmas, New Year.  You can filter by type of card (flat, folded, etc.) and by how many photos you want to show.  At the bottom of the browser, you can view your recently viewed cards, so you don't have to scroll through all the cards again to find the one you were looking at before.  Super easy site to navigate!
Best thing about Minted is you can click where it says "Find it faster" and upload the photo you want to use.  Then, it pulls that photo into every card so you can browse super quick and get an idea about what your card will look like!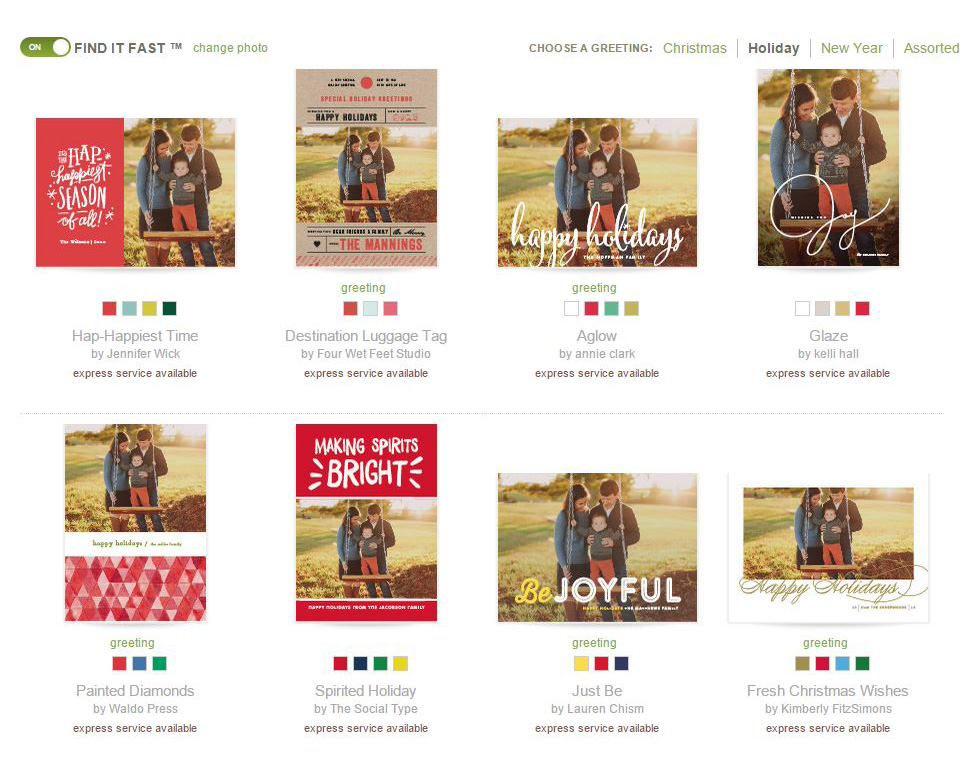 After you decide on the card you want, Minted helps you edit the card with the correct wording and layout.  They do a really nice job of making it user friendly!  Go play around with it!  I'm sure you'll find some cards you want to buy!
NOTE: This post is sponsored by Minted, but all opinions are my own.  The links in this post are affiliate, so if you click through the cards and make a purchase, I will receive a small commission.  Have fun browsing all the fancy cards!