Need a cute little gift for your favorite coffee or tea drinker? These sweet little felt coasters would be perfect, and they are such a quick project!  Can you tell that's what I'm all about these days?  Seems like nap times get shorter and shorter, so the faster the projects the better right now.
All you need for two coasters is four pieces of felt that are 7 inches by 8 inches and four pieces of cotton batting that are also 7 inches by 8 inches.  You can also make two potholders with the same pattern.  Just cut four felt pieces that measure 10 inches by 10 inches and four pieces of cotton batting that measure 10 inches by 10 inches.
Step 1: Cut your fabric and batting to measurements listed above.  Make sure you use 100% wool because wool blends could contain a fiber that will melt under hot objects.
Step 2: Place two pieces of batting under one piece of felt.  Pin your three layers in place as much as possible.  At the sewing machine, sew random lines in any pattern on the felt through all three layers.
Step 3:  If you need to even out your edges because of any shifting that took place during your sewing, this is the time to do so.
Step 4: Place your second piece of felt on top of your other piece of felt with right sides together.  Pin the edges and sew around all four sides with a 3/8 inch seam allowance.  Be sure to leave at least a 4 inch opening to turn the coaster right side out.
Step 5: Clip your corners and trim the batting as close as you can to your seam.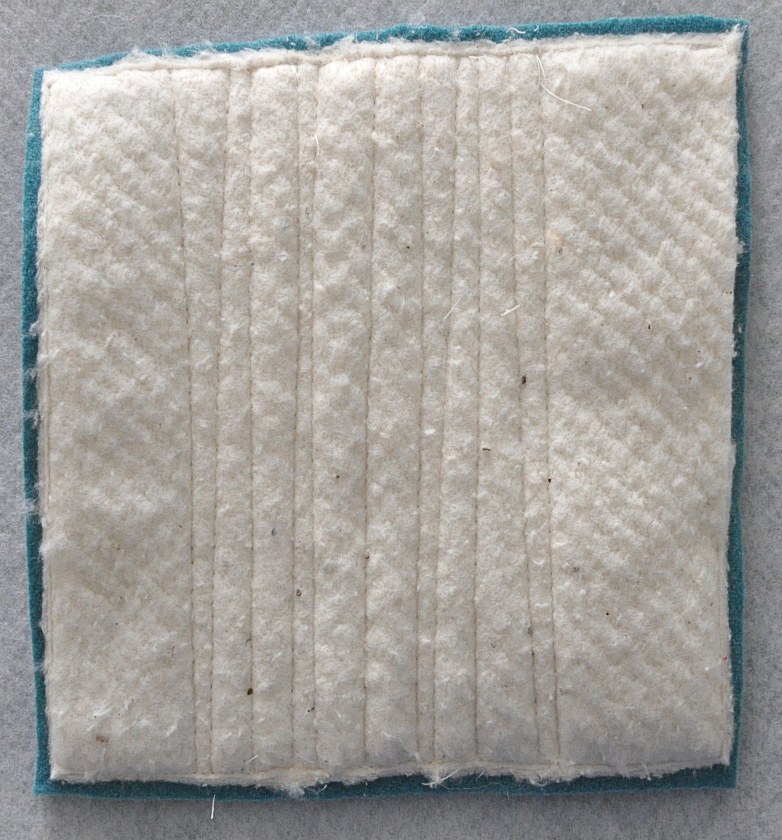 Step 6: Turn your project inside out.  Sew up the opening by hand and enjoy a cup of coffee with a friend!